A love story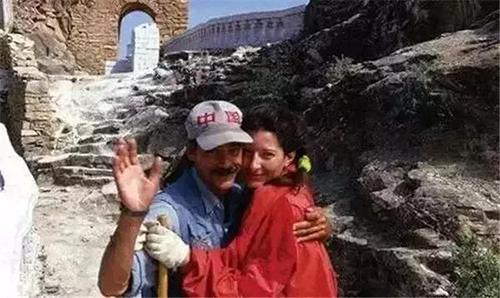 In 1976, after moving to Amsterdam, Abramović met the West German performance artist Uwe Laysiepen who is generally known by his artist name Ulay. They immediately bonded and started working and living together, exploring personal ego and artistic identity. They formed a collective being called "the other", and spoke of themselves as parts of a "two-headed body". They dressed and behaved like twins and created a relationship of complete trust. Their (very notorious) performances include Relation in Time (1977), Breathing In/ Breathing Out (1977) and Rest Energy (1980).
In 1988, after several years of tense relations, Abramović and Ulay decided to end their intense artistic and personal relationship with a final performance in the form of a spiritual journey. After years of negotiations with the Chinese authorities, the artists got the permission to carry out 'The Lovers: The Great Wall Walk', in which they started to walk from different ends of the Chinese Wall in order to meet in the middle and say good-bye to each other. The final act would end their relationship and they decided to never meet again afterwards.
Abramovic started walking at the eastern end of the Great Wall of China, at Shan Hai Guan, on the shores of the Yellow Sea, Gulf of Bohai, walking westward. Ulay started at the western end of the Wall, at Jaiyuguan, the south-western periphery of the Gobi Desert, walking eastward. After they both continuously walked for 90 says, covering 2500km each, they met at Er Lang Shan, in Shen Mu, Shaanxi province. Here, they embraced each other and said goodbye. From then on they would both go on with their life and work separately. As their work had often employed ritualized actions, mythology and Eastern thought, 'The Lovers: The Great Wall Walk' has to be considered the perfect end of the common oeuvre.
Unlike other – less artisticly dramatic – kickasstrips, Abramović and Ulay's Great Wall of China Walk accomplishment meant the end of the journey, a collaboration, a lovers relationship and even an art form. This multidimensional end of such a long journey made the entire walk such an incredibly deep and spiritual journey. It is hard to imagine what would have gone through their heads in those 90 days of solo-walking.
Abramović described it as follows: "That walk became a complete personal drama. Ulay started from the Gobi Desert and I from the Yellow Sea. After each of us walked 2500 km, we met in the middle and said good-bye". Abramović conceived this walk in a dream, and it provided what she thought was an appropriate, romantic ending to a relationship full of mysticism, energy, and attraction. She later described the process: "We needed a certain form of ending, after this huge distance walking towards each other. It is very human. It is in a way more dramatic, more like a film ending … Because in the end we both would be really alone, whatever we would do."
Go back to Homepage
Copyright 2019 by Victoria Liu. All Rights Reserved.
---